Wenn Sie folgenden Fehler: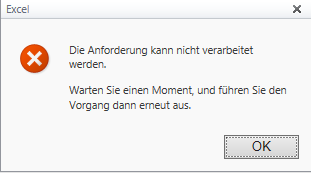 … kombiniert mit diesem Event auf dem SharePoint-Server bekommen: 
There was an error in communicating with Excel Calculation Services http://SP-SERVER:12345/abcdef-asd2321324142434-abc232/ExcelService*.asmx exception: The remote server returned an error: (403) Forbidden.
[Session: 
User: DOMAIN\user].
.
… dann sind vermutlich die Performance Counter kaputt.
Dies lässt sich wie folgt reparieren:
Öffnen Sie auf dem Server ein CMD/PowerShell-Fenster als Admin
Geben Sie "lodctr /r" ein, um die Counter zu rebuilden
Geben Sie "iisreset /noforce" ein um die IIS-Dienste einmal im Kreis zu schicken.